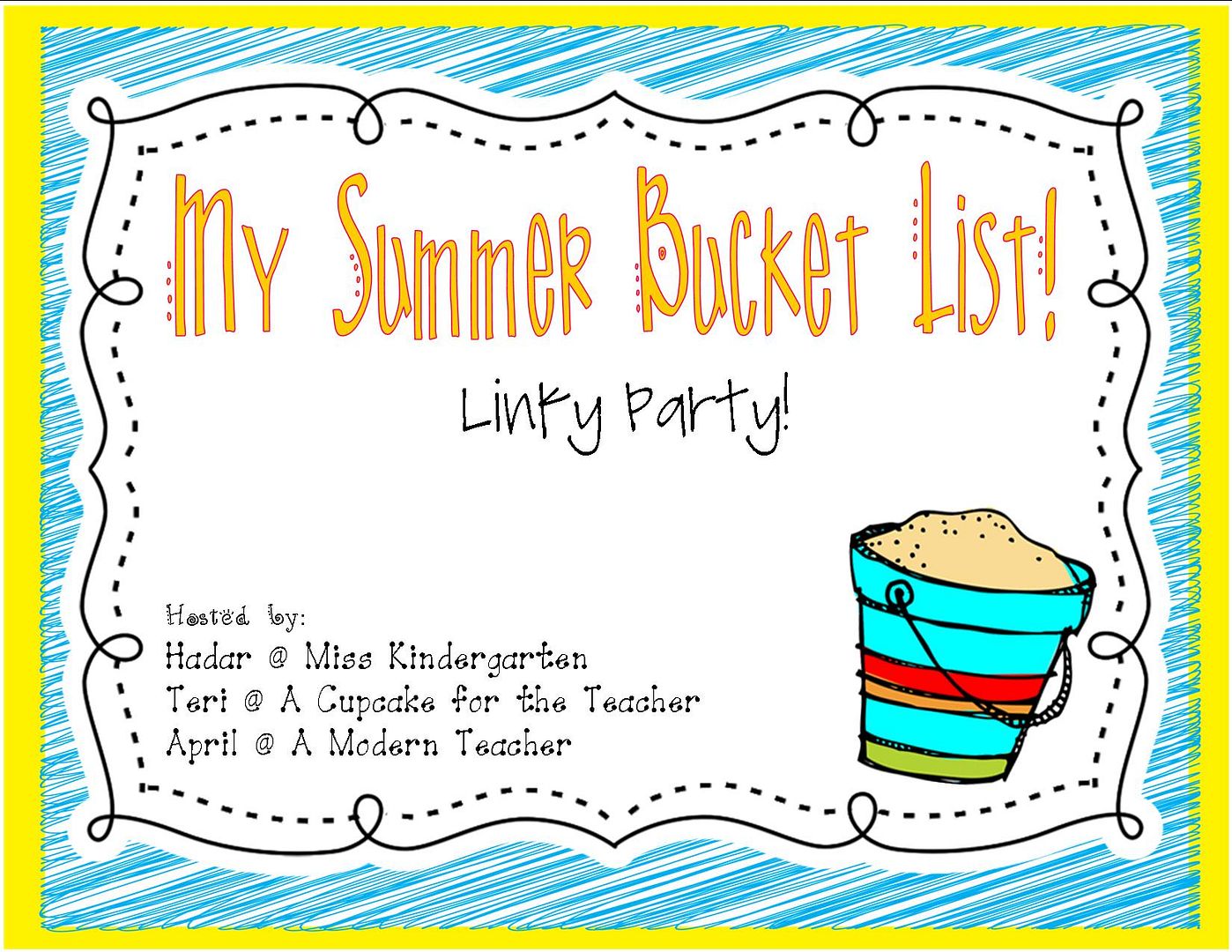 My First Linky Party
Jeeze, I have no idea if I did this right but it looked like fun and I have A LONG bucket list for this summer:
#1: QUALITY TIME WITH BUBBA
I love this idea that I found on pinterest from:
http://www.somewhatsimple.com/summer-schedule-for-kids/
Now that Bubs is a little bit older (he'll be 18 months in June!!!) I think he's ready for organized activities. We all know summer vacation goes too fast and I'd like to make the most of it with my little man. We have a zoo membership that I haven't activated and there are some classes I'd like to sign-up for at our local "natural" baby store. "Exploration in Rhythm" sounds right up Bubba's ally!
#2 TEACHERS PAY TEACHERS
I have so many great ideas swimming around in my head for things that I'd love to design for my classroom. I'm hoping that I'll be able to get a lot of them accomplished and loaded when I'm off this summer. I've had so much fun with my little TpT store!
#3 DONORS CHOOSE
As I've mentioned I work in a district which seems to always be struggling with budget issues and my school itself has a high poverty rate. Needless to say, I don't always get everything I need. My leveled library is really struggling. Most of the books I purchased 10 years ago and I also have a bunch that have been hand me downs from retiring teachers that could be even older! Donors Choose has helped me in the past and I'm hoping I can be successful again. It's such a great service! I like to go on from time to time and donate a few dollars here and there to projects that catch my eye.
#4 THIRD HONEYMOON
My husband and I will be celebrating 4 years of marriage this August and this past Valentine's he surprised me with a trip to the Mayan Riviera. We leave at the end of July for 10 days and I could not be more excited. We honeymooned the first time at Sandals Negril in Jamaica and decided then and there that we would try to go on tropical vacations as much as possible. In 2010 we went to the Mayan Riviera over Spring Break and came home with a pretty sweet little surprise... a positive pregnancy test! We loved it there so much and the prices are so reasonable that we're going again, just not to the same resort. As for a sweet surprise after this trip? Well, don't hold your breath. We're really enjoying Bubba at this stage.
#5 THE ADIRONDACKS
My in-laws have a cottage on 4th Lake and it has become one of my favorite places on earth. There is nothing more relaxing than crisp mountain air, crystal clear lakes, and campfires every evening! I'm really excited about the trips we have planned this summer. Bubba was such a baby last summer and I just think he's going to have such a different experience this year. I can't wait to see him toddling around on the beach and riding on the boat.
#6 THE LIVING ROOM
My father built me the most beautiful window seat and bookshelves, very similar to this picture, for our living room. The room has sat basically empty for all 3 years that we've lived in our house! It's really embarrassing to admit that but I just never knew what to do with it! It's now become a "play room" for Bubba. This summer I have GOT to get it together. I've been "pinning" things like mad and now I just have to find a way to put all the pieces together...on a not-paid-in-the-summer teacher's budget! Ha, wish me luck. Here's a few things I love for the room:
Love this rug!
Funky, brightly colored pillows are a MUST for the window seat.
I love this couch, coffee table, and the woven window treatment.
I love the look of this chair but I don't know if that pattern is exactly what I've got in mind...
So, as you can see, I've got my work cut out for me. I am determined to have SOMETHING in that room by Fall. We can never have more that a few people over at a time because we've got nowhere to sit!
#7 MY OFFICE
Right now I have the same desk I had in college and I sit on a folding chair with a blanket thrown over it. Considering the time I spend working at this desk, on my computer, it's about time for me to UPGRADE! Don't you love how two of my summer projects include major $$$??!! My husband is going to kill me. :)
Wishful thinking....
#8 CLASSROOM ORGANIZATION
Not to toot my own horn but my classroom is pretty organized. It HAS to be, it's on the smaller side and I CANNOT function in chaos. However, now that we've started this new curriculum and I'm approaching my 12th year of teaching (YIKES!!!), I feel a major PURGE coming on. I think it's time to go through every file in my cabinet, every bin, and every shelf and make trash, keep, donate piles. I get giddy just thinking about it. Catch me in the right mood and I will organize the heck out of things. I'm hoping some rainy day this summer I'll catch one of those moods, be able to find a baby sitter, and the building will be open. Will the stars align in my favor? :)
#9 FITNESS AND HEALTH
Well, some could argue summer is already here. I used to be a total gym rat. I mean 5 times a week, sometimes 6. I went every day after work like it was my religion......Then I got pregnant and my priorities and available time changed, BIG TIME. Now, for anyone reading this who knows me, I am in no way saying I'm fat but I certainly have lost some of the tone and energy I used to have. I am determined to find both those things again this summer. Every morning, last summer, I popped Bubs in the jogging stroller and went down to the canal for a nearly 3 mile run. Now that he's older I'm not sure he'll fall asleep like he used to. He's a lot more active in the mornings. I'll have to find something that works. I just miss the "me" time and I miss the confidence I used to have, not only in my endurance for physical activity, but also in walking on the beach in a bikini. So here's to health and confidence this summer!
Well, there they are. All my summer goals! I don't think I'm being too ambitious.... hahahahahaha!!!